Jill Segal's Newsletter
Winter/Spring 2015
_______________________________________________
Dear Friends,
As I write this from Naples Florida, I am aware that Toronto is in the midst of a snow storm. I'm hoping you are all safe in your warm homes and maybe even having fun creating something wonderful.
Perhaps a snow day is an opportunity to slow down, and have a quiet contemplative day.
I love this quote by Elaine St. James:
"An amazing thing happens when we slow down. We start to get flashes of inspiration. We reach a new level of understanding and even wisdom. In a quiet moment we can get an intuitive insight that can change our entire life and the lives of the people around us in incredibly positive ways. Those changes can last a lifetime. Living more simply will make it possible to create those quiet moments. Out of those quiet moments miracles happen. Be open to them." ~ Elaine St. James
My intention, for my three months in Florida is to slow down and wait for "Those Flashes of Inspiration and allow for incubation of creative ideas."
I wanted to let you know that I am updating my website and would really appreciate it if those of you who have taken my classes or bought my paintings would send me a testimonial that I could include in the new website.
~~~~~~~~~~~~~~~~~~~~~~~~~~~
PAINTING TIPS
Creating Texture on a Canvas or board or paper
There are various ways you can add texture to your painting surface before you start painting.  It is important to allow the textures to dry completely before adding paint.
Use textures that will enhance your subject matter, or add interest to your painting.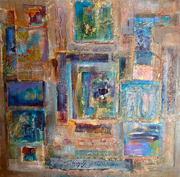 1) Gel medium (gel medium dries transparent and can be applied over colours. You can use gloss or matte gel. It can be regular or heavy depending on the impasto effect you want to acieve.)
Apply your gel medium quite thickly with a palette knife.
Scratch into the gel with a fork, comb, sharp toolA different kinds of scraping tools.
Gel can also be applied with a roller creating some interesting effects.
Stamp into the gel with stamps, bubble wrap, lids and any thing else with a texture.
Use stencils. Apply the gel over stencils and lift the stencil.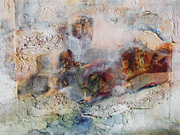 Mix the gel with sand and apply with a palette knife,
Mix the gel with crushed shells or recycled coffee grounds and apply with a palette knife.
2) Molding paste (molding paste dries opaque). You can get light or heavier molding pastes
See tecniques for Gel medium
3) Thick Gesso. (gesso is also opaque)
See tecniques for gel medium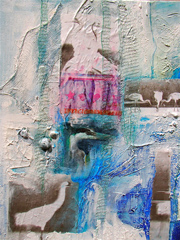 4) Tissue paper, white or coloured
Apply the tissue paper with acrylic medium
5) Crackle paste  (this is a Golden product)
Apply with a palette knife and allow to dry . This may take a whole day. The thicker you apply the crackle paste the larger the cracks will be.
6) Cheese cloth . Apply with gel medium. Allow to dry
7) Stick found objects onto your canvas with Gel medium. 
Heavy gel medium for heavy items eg stones, shells, metal etc
~~~~~~~~~~~~~~~~~~~~~~~~~~~
CLASSES & WORKSHOPS
I am always grateful for my wonderful, enthusiastic students, who keep me evolving and teach me as much as I teach them.
April / May /June 2015 in Ontario
Acrylic and Collage Classes in my home studio will resume on Thursday April 9, 16, 23, 30, May 7, 14  (6 week session, with the option of a make up class May 21, 2014.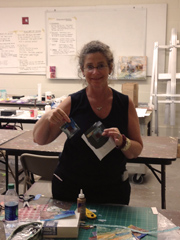 Fee $216.
Creative Explorations with Fluid Acrylic and Collage 
Humber Valley Art  April  15, 22, 29
For registration : www.humbervalleyartclub.ca
May Workshop – Creative Explorations with Acrylic and Collage
Date: Saturday May 2, and Sunday, May 3, 2015
Time: 10am-4.00pm
Cost: $180 +hst.
Location: Maggiolly Art Supplies in Orangeville Ontario.
158 Broadway, Orangeville Ontario
1-519-942-9560
For registration: www.maggiollyart.com, maggiollyart@gmail.com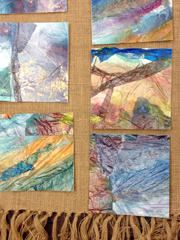 This is an inspiring fun filled workshop, for developing artists, who are ready to break free and explore new directions in painting and self expression.  You will be encouraged to loosen up and explore the exciting effects created by combining fluid acrylic paint,  (acrylic paint can also be used) and collage material, adding a new dimension to landscape and/or non-objective subject matter.
Bring your own supplies.
Light lunches included.
July 2015
ACRYLIC, COLLAGE AND YOGA
Date: July 6-10 2015
HALIBURTON SCHOOL OF THE ARTS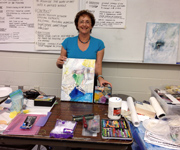 Website: www.HaliburtonSchoolofTheArts
To register: (705) 457-1680
August/September 2015
DREAMS, INTUITION & ART with Jill Segal & Patti Allen
Location: Creativity Art Retreat Centre in Dunedin Ontario
3 days, $317 including The Abaton Keys: a dream healing oracle deck + HST.  No previous art or writing experience necessary!
Date: Sunday, August 30 to Wednesday September 2, 2015
To register: Creativity Art Retreat. www.creativityretreat.com
~~~~~~~~~~~~~~~~~~~~~~~~~~~
ART SHOWS & EVENTS
I am always excited to have the opportunity to show my art and share my vision.
I will continue to be exhibiting my work at ARTPROVO in Providenciales, Turks and CAICOS ISLANDS  www.artprovo.tc/gallery
I will be participating in a show at the SWEET ART GALLERY, Naples Florida. www.thesweetartgallery.com – please see images below.
Please visit the galleries if you are close by.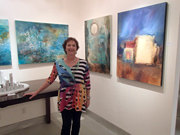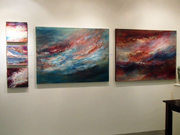 At the Sweet Art Gallery
_______________________________________________
I wish you all a creative winter and look forward to hearing from you,
Jill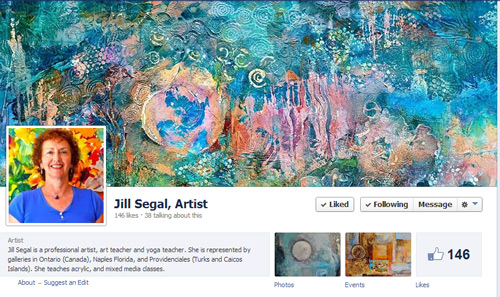 _______________________________________________
Please contact me at Jill@jillsegal.com or 905-731-3834 if you are interested in any of these classes.