Art and Spirituality
A Conversation with Jill Teeger Segal
Susie Kaufman
This is the third in an occasional series of conversations with artists on the rich subject of Art and Spirituality.
Jill Segal www.jillsegal.com was born in Johannesburg, South Africa. She emigrated to Canada in 1976, and is now living in Toronto and spending winters in Naples, Florida. Jill studied at the Ontario College of Art and Design and The Haliburton School of the Arts. She works in acrylics, mixed media, and collage and has developed a practice that is an interweaving of yoga and painting. She works intuitively with a variety of media often without a conscious image of the end result, applying color and materials boldly, often scraping and imprinting textures into the painting. The final abstracted work evolves by adding and subtracting many layers of transparent paint, acrylic mediums and collage materials.
Jill writes "Painting is my passion, and my form of self-expression. My acrylic and mixed media paintings portray my delight in and reverence for the natural beauty of the world around me. They express my belief in the sanctity of nature, the inherent energy in and around us, and the interconnectedness of all of life. I particularly love the ocean, and all things connected to the ocean. My art, like my life, is not about the destination. It is about the excitement of the process, and the journey."
This painting originated in a trip to Victoria, BC. Here, seeing the white lights on the water, the God lights, Jill describes experiencing spaciousness, peace, an elevation in consciousness. Back in the studio, she opened herself to that space by connecting to her breath, to the numinous, the intuitive.
Please tell us about the workshops your facilitate on spirituality and creativity.
Besides art, yoga and meditation have been my passions for many years. I had been using these practices as a means of entering and deepening my creative process, as well as using them as tools for helping me to relax, deal with stress, become more self-aware, and connect with my Authentic Self and Source Energy or Higher Consciousness. I found that when I allowed myself to connect with my body, calm my mind and center myself, creativity flowed and I was able to tap into a universal creative source. Time stood still, and often, in that flow state, the painting seemed to paint itself.
In 2007, I began offering workshops at the Haliburton School of the Arts and at my home studio, combining yoga, meditation, and acrylic painting and collage as vehicles of self-expression, healing and transformation.
Over the years, I also facilitated several trips to Peru, to Machu Picchu, The Sacred Valley and surrounding areas. Included in these trips were opportunities to meditate, be still and paint in areas that had been designated as Sacred Sites.
You spent your early years in South Africa. How has that landscape and that culture stayed with you and informed your painting?
The sunshine, bright colors of the flowers and landscape in South Africa definitely influenced my love for and use of brilliant colors in my paintings.
I spent many joyful vacations as a child at the shore in Cape Town, South Africa and I would say my affinity for the ocean first began there, continues to this day, and is a frequent subject of my paintings.
You've written about how you experience your acrylic and mixed media paintings as "celebrations of all aspects of life, reflecting the inherent energy in and around us, and the interconnectedness of all things." What is the feeling that arises when you're immersed in that energy?
There is often a feeling of excitement, joy and awe. At other times, I experience a feeling of spaciousness, peace and deep knowing that everything around me is interconnected.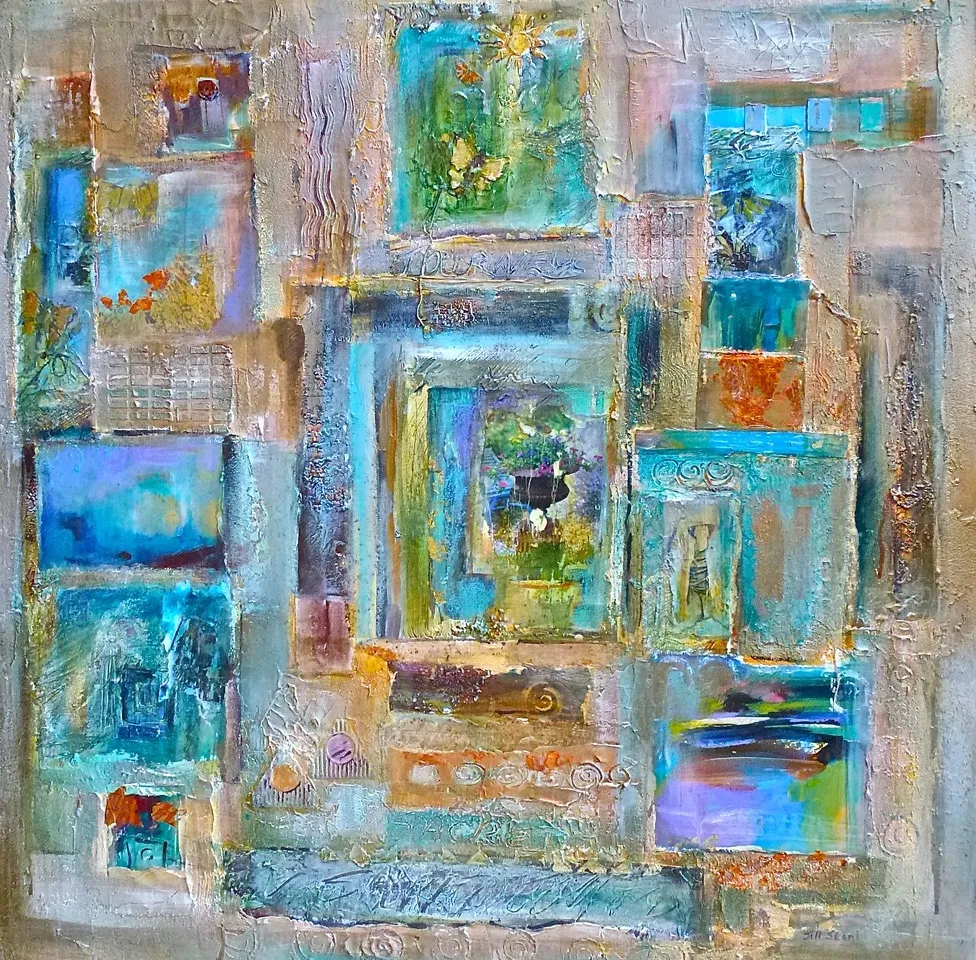 The painting above arose after visiting the holy sites in Peru. It's part of a series on passages, sacred doorways that we pass through on the journey towards greater consciousness.
Your inspiration seems to come from the natural world, but also from ancient sacred sites. How do these two sources interact with one another and illuminate the space in which you make art?
I find that when I am in the natural world, I feel a connection to something that is greater than myself. (The Great Creator, Source Energy, God, The Creative Force, Universal Energy, Divine Presence). So I try in my nature paintings to convey these feelings of awe, wonder, joy, beauty, peace and connection to the Divine.
One of my life goals has been to visit and paint in as many of the sacred sites of the world as I can. By sacred I mean places which are awe-inspiring, where many people have experienced a feeling of transcendence and harmony with the Cosmos. Throughout history people all over the world have identified particular places as sacred, some because of their association with a particular event and others due to uplifting qualities intrinsic to the places themselves. I was influenced by a beautiful book of photography called The Sacred Earth by the Canadian photographer, Courtney Milne. He spent years traveling the globe on a personal quest to discover sites that have carried mystical importance from antiquity to the present day. I wanted to do this, too. So far I have visited sacred places in Peru, Australia, New Zealand, Israel, Europe, Turkey, Greece, England, Ireland, the West and East Coasts of Canada, South Africa, and in the USA, parts of California, Sedona, Arizona, and Colorado. Images and inspiration from these places often find their way into my paintings.
At many of these sites, particularly in Peru, I experienced the same awe that visits me in the natural world. I first visited Machu Picchu in 2001. There I experienced the energy of ceremonies led by shamans that included chanting, crystal bowls, and ancient flutes. I was transported by the sound and the light and this feeling stayed with me when I arrived back at the canvas. I became the vessel for that energy. When I paint, I am always attempting to express my connection to the universal flow. Whether I am involved with a recognizable subject or an abstract and non-objective piece, that relationship is always paramount.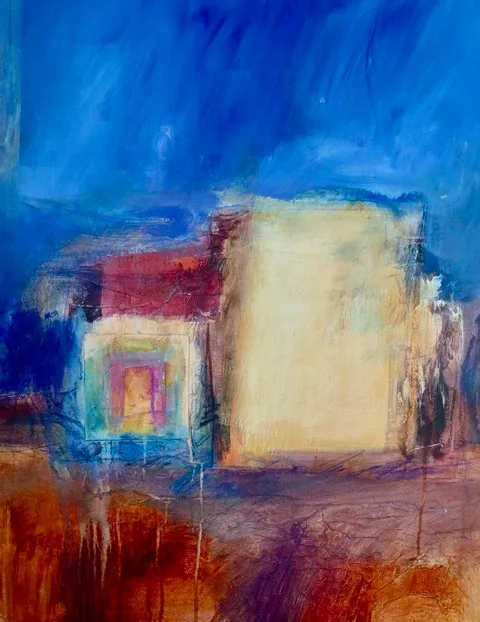 Doorways continue to present themselves.